TuneCab Media Converter is tool for converting any kind of audio and video data to commonly used formats such as MP3, AAC, WAV audio, MPEG4, DivX movie. It uses unique technology which gives a capability to convert any kind of protected and unprotected data to regular audio and video formats which can be played on dozens of compatible devices. For example TuneCab Media Converter can convert protected music files from Napster, URGE, Yahoo! Music and actually can convert any kind of protected Windows Media Audio (WMA) files to regular MPEG1-Layer3 audio (MP3), convert iTunes music files (M4P) to MP3 as well as convert Rhapsody music files (RAX) to MP3. The only condition is that the music content must be legally obtained and can be played on the computer where TuneCab Media Converter is installed.
TuneCab Media Converter can also convert video files of any kinds to commonly used iPod MPEG4 files (MP4) and DivX files (AVI, DIVX) for playback at home video devices. With TuneCab Media Converter you are not bound to your PC anymore and can play your movies on almost any device you have. TuneCab Media Converter can convert protected Windows Media Video (WMV) files to regular MPEG4 files (mp4) for iPod devices or convert WMV to DivX format for home DVD/DivX players. TuneCab Media Converter also can convert protected iTunes video files (M4V) to MPEG4 or DivX. And these are only few examples of many available conversions.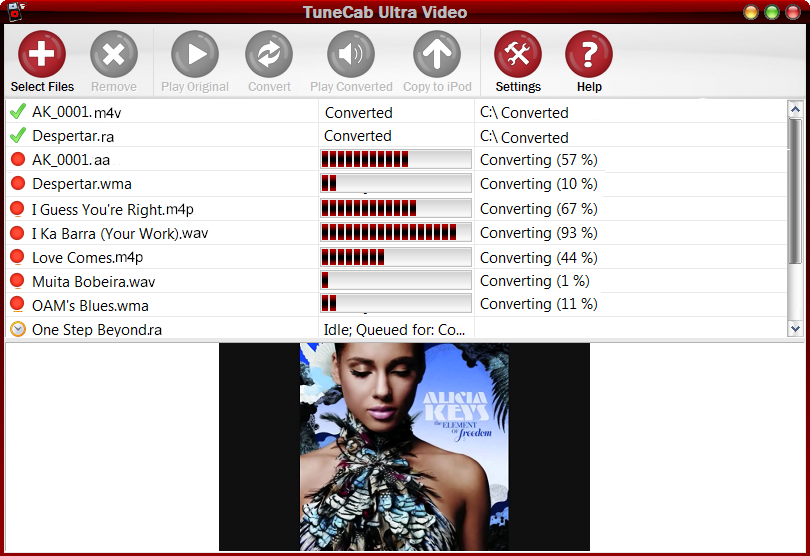 The key feature of TuneCab Media Converter is its simplicity. You may convert your whole media library of protected and unprotected content to regular unprotected audio and video files at one click. All you need is to drag'n'drop your media library folder to TuneCab Media Converter list of files for conversion.
Other distinctive features of TuneCab Media Converter are its extremely high conversion speed for protected audio files and very reliable conversion of protected audio and video files. You may convert your protected WMA content to MP3 files with up to 50x in batch mode. Actually the conversion speed is limited by your PC performance only. TuneCab Media Converter introduces unique technology which maintains extremely high PC utilization in order to perform conversion as soon as possible while producing reliable conversion results.
TuneCab Media Converter has a capability to watch an arbitrary media library folder and convert media content as soon as it was downloaded from a music provider or simply copied to that folder. This is implemented by means of 'Automatic Conversion Folder' engine and can be configured with corresponding fields in TuneCab Media Converter settings dialog.
When converting your audio content you have of choice of such destination audio format:
MP3 – MPEG1-Layer3 nowadays is most widespread audio format which is supported by almost any audio/video devices.
AAC – MPEG4-AAC is audio format natively intended for MPEG4 movies. Now it is supported by many well-known portable audio devices such as iPod.
WAV – Uncompressed audio is right choice if you plan to rip your converted audio files to audio CD or edit your audio content with a waveform audio editor.
When converting your video content you may choose from one of following video formats:
MPEG4 for iTunes (M4V file extension) – is intended for iTunes-compatible video devices such as iPod.
DivX for home video systems (AVI file extension) – is intended for DivX-compatible video devices such as home or portable DVD/DivX video players.
Whatever kind of media you need to convert, TuneCab Media Converter is best choice for you. So forget about restrictions and enjoy your music and movies everywhere.